The unlocking

Safely open for business

We are now open for business by appointment. And have also introduced our Summer hours so that's 7 days a week with Sunday 12 noon to 4 pm, Monday to Saturday 9 am to 5.00 pm and a late night Wednesday to 7.30 pm.

Of course we will be maintaining Covid suppression procedures which means:-

* Mandatory wearing of masks

* Provision of hand sanitising facilities and gloves at the entrance

* Limiting of numbers allowed in the showroom to maintain social distancing

* Visitors by appointment only please

*Test rides will be available - by appointment only
Collection and delivery throughout central Scotland
Heavily subsidised collection and delivery service for workshops customers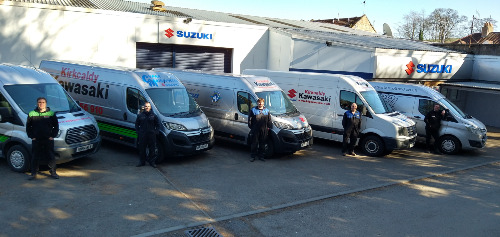 For a one-off fee of just £40 you can have your bike collected from your home and returned one week later on a scheduled service, serving Glasgow/ the West on Mondays, Aberdeen/ the North East on Wednesdays and Edinburgh the South on Fridays. All towns along the way are covered for the same fee and more distant destinations can be included for a small additional charge, please ask.
No need to take a day out of your time to have your bike serviced or repaired.
Alternatively, come and visit us and ask for a courtesy bike for just £5 for the day whilst your bike is being serviced.
The world's ultimate sports bike is back.

New 2021 Hayabusa is here. Limited window for demos available.

***** STOP PRESS*****
We will have a Suzuki GB fleet bike demonstrator available to us from the 10th to the 18th of April. To book a test ride please contact us now.

The Hayabusa is a bird of prey in Japan. The ultimate hunter.
Suzuki's version has been an iconic and much loved motorcycle since it first appeared to world acclaim in 1999.
Click on the link below for more details of the latest incarnation of this masterpiece.

Read more

The Hunter. Hayabusa bird of prey
Kawasaki reduces APR rate on all bikes

Why let capacity get in the way of a good deal

Kawasaki have lowered their finance rate to 5.9% on anything from the Z125 - ZX-10RR. Bikes below 650cc qualify for 0% APR when bought on a Hire Purchase deal. New bikes arriving weekly but stock is very limited this year.


We also have some cracking deals available on our final few 2020 bikes.

Read more
Let's get this year started with MV Agusta

Few remaining 2020 bikes with £1500 deposit contribution

Just 4 stunning examples of Italian Motorcycle Art Euro 4 bikes available on this great deal. £1500 deposit contribution, and finance from as low as 4.9% APR (for the best credit profiles), with 7.9% representative example. If you don't need the finance we will still work out a stunning deal for you. Check out the details...

Read more
Suzuki GSX-R1000R. Last ones now available

Pre reg and unregistered GSX-R1000R bargains

There will not be a replacement for the GSX-R1000R for the foreseeable future. Suzuki GB have brought in all the bikes available, and they are all now with dealers. When they're gone, that's it. New unregistered Anniversary bikes as well as 2021 black available and a couple of pre-reg red/black 2020 bargains to be had.

Read more
Zero percent finance available on new Kawasakis

Why pay more for the bike you've always wanted...

0% APR over 3 years is now available on new 2021 models below 650cc through a K.Options Hire Purchase agreement with a £99 minimum deposit. On all models above 650cc Kawasaki are offering 5.9% APR on both PCP & HP finance.

Read more
Punchy V-Twins with a knockout offer

All Suzuki's V-Twins now on 3.0% APR finance

Easy payments. Low interest 3% APR on all Suzuki V-Twin machines; 1050 & 650 V-Stroms as well as the SV650 & SV650X. Deal with us online or in person. Nationwide delivery a cinch. 36 months PCP or HP finance with minimum £300 deposit. Click on the link for some examples.

Read more
Few remaining 2020 model Suzuki bargains

Pre-reg & some new run-out models with massive discounts

Due to emissions and noise legislation changes Suzuki are dropping a few models from the range. They brought all the bikes in to the country that they could in December. We have a reasonable stock of most of these just now, but when they are gone, that will be it till and when any replacement models come in - which can be guaranteed to be more expensive. Grab a bargain while you can.

Read more
The future is here. Electric mopeds have arrived

Welcome to the 21st century two wheel commuter transport

Licence and insurance regulations as per a 50cc moped. Zero emissions. Trivial running costs. 28 mile range, 28 mph maximum speed. This is why you don't need to get the Gold Wing out to do your shopping.

Check these out in Cupar and in Kirkcaldy.

Read more
Cupar Motorcycles
West Port, Cupar, Fife, KY15 4AW

Kirkcaldy Kawasaki
149 Rosslyn St, Kirkcaldy, Fife, KY1 3HT

Copyright © 2021