Suzuki launches the new GSX-S1000 GX
Revise your bucket list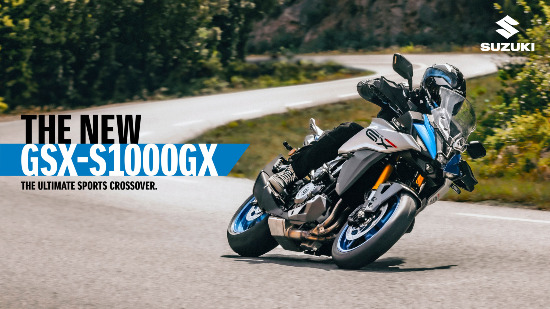 We are expecting first deliveries before Christmas. Hurry! Buy your loved one one of these for more brownie points than you can shake a stick at.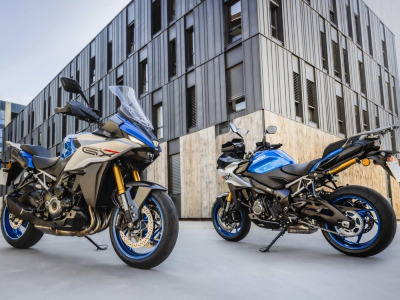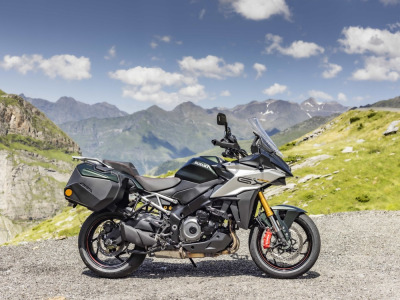 Check out some of the spec below:-
GSX-S1000GX
With a design and product concept of the ultimate sports crossover, the GSX-S1000GX is set to become the benchmark in the category, as Suzuki moves into the crossover sector of the market for the first time.

It boasts Suzuki's most sophisticated electronics package to date, with a number of new and innovative systems enabled by a six-axis Bosch IMU and electronic suspension from Showa. The GSX-S1000GX is the first Suzuki to adopt Suzuki Advanced Electronic Suspension (SAES).
The GX gets 150mm front and rear suspension travel to create an upright riding position, broadening the rider's field of view and providing all-day riding comfort. The longer suspension travel also helps the GX smooth out bumps when riding over uneven surfaces. There are four selectable modes of SAES: hard, medium, soft, and a customisable user setting which offers +/- three increments on the selected base setting of hard, medium, or soft. Further helping smooth out those bumps and undulations is Suzuki Road Adaptive Stabilisation (SRAS). An original Suzuki system, in use for the first time on the new GX, it detects unevenroad surfaces based on input from the IMU and wheel speed sensors, and, if required, triggers the Suzuki Floating Ride Control (SFRC) to help smooth out the ride. As part of the SFRC it also adjusts the electronic throttle valve settings to deliver softer, more controllable throttle response. The rear suspension's spring preload settings are also electronically controlled, making it easy for a rider to use a handlebar switch to quickly choose between auto or one of the four available
modes they find best suited to their immediate needs or preferences. Riders can select between single rider, single rider plus luggage, or tandem (with or without luggage). In addition, the preload setting for auto mode can be adjusted by +/- three increments and the three manual modes can be adjusted by +/- four increments to match the rider's needs more finely.
The GSX-S1000GX also uses an alpha version of the Suzuki Drive Mode Selector. SDMS-α provides three riding modes: active, basic, comfort. Those three integrated riding modes control power output characteristics, as well as the level of traction control, which, on the GX, is
integrated with Lift Limiter (anti-wheelie) and Roll Torque Control, and electronic suspension settings. Riders can opt to use the default settings of many of those systems or customise them to match their needs or preferences more closely. There are seven selectable modes of traction control – integrated with Roll Torque Control and Lift Limiter – and three selectable throttle maps.
Making its debut on the GX is Suzuki's new Roll Torque Control. Based on data received from the IMU and wheel speed sensors, this new system calculates the bike's lean angle and speed to predetermine what level of power output and acceleration is optimal at that time, for example, when exciting a corner. It then reduces torque output before the motorcycle exceeds the amount of power the system deems necessary to clear the corner effectively. The result is an extra layer of pre-emptive protection that operates silently in the background, with its settings determined by the level of traction control selected.
Completing the GX's comprehensive suite of electronics is a ride-by-wire throttle, bi-directional quickshifter, cruise control – updated on the GX to allow the system to continue operating when the rider changes gear – lean angle-sensitive ABS, Slope Dependent Control, which prevents rear wheel lift when braking downhill, easy start, and low RPM assist.
Monitoring all of the GSX-S1000GX's electronic systems is done via a 6.5-inch colour TFT screen, which also offers smartphone connectivity, allowing riders to access maps, view contacts and make and receive phone calls, see their calendar, and play music. All this is done via the free Suzuki mySPIN app. A USB socket in the side of the instrument cluster makes for easy phone charging. Powering the new GSX-S1000GX is Suzuki's creamy smooth, 999cc, inline four-cylinder, superbike-derived engine. Known for its abundance of lowdown and midrange power, it produces 152PS at 11,000rpm and 106 Nm of torque at 9,250rpm. That engine is housed in a twin spar, aluminium frame mated to a race-proven aluminium swingarm from the GSX-R range and a lightweight subframe.All of that is wrapped in new, aggressive bodywork, with full LED lighting front and rear. Hand guards and a spacious luggage rack add extra practicality. Luggage capacity can be increased with genuine accessory 36-litre panniers.

With an OTR price of £14,495, the GSX-S1000GX is available to order now, with first customers able to take delivery in time for Christmas. It will come in Suzuki's trademark Metallic Triton Blue, Glass Sparkle Black and a new Pearl Matt Shadow Green.
Cupar Motorcycles
West Port, Cupar, Fife, KY15 4AW

Kirkcaldy Kawasaki
149 Rosslyn St, Kirkcaldy, Fife, KY1 3HT

Copyright © 2023